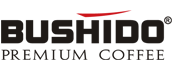 At last they have come together, East and West, and as a result we can enjoy a coffee masterpiece - BUSHIDO.
It combines the Eastern philosophy, based on the samurai ethics and morality, and the highest quality of the coffee art.
The coffee project BUSHIDO is a kind of East and West betrothal based on the challenging experiment to unify the antique traditions of Japan and the European coffee culture.